As organizations look to build on their existing Enterprise Content Management platform, they are turning to a content service platform to create a comprehensive information management environment. This blog will walk you through the features and capabilities needed to manage content across your organization.
The traditional approach to managing content has been replaced by a more modern model focusing on distributing it to the right people at the right time. This new approach allows organizations to complete their business processes more efficiently.
What is a Content Services Platform?
A content services platform can address different audiences and use cases across an organization. It can manage all of the different types of files that are used today, such as video, audio, social media, and more.
Сontent services definition: A platform of various applications and services designed to work seamlessly. It is an integrated product suite accessed through common APIs and repositories.
According to a report by Gartner, the ability to manage and distribute content is best achieved through a set of services designed to work together seamlessly with each other and with different types of files.
Content Services Platforms vs Enterprise Content Management
CSP is a service platform that provides various services to help organizations manage their files. This Platform might look similar to an enterprise service platform but has different features and functions. Let us break down the differences: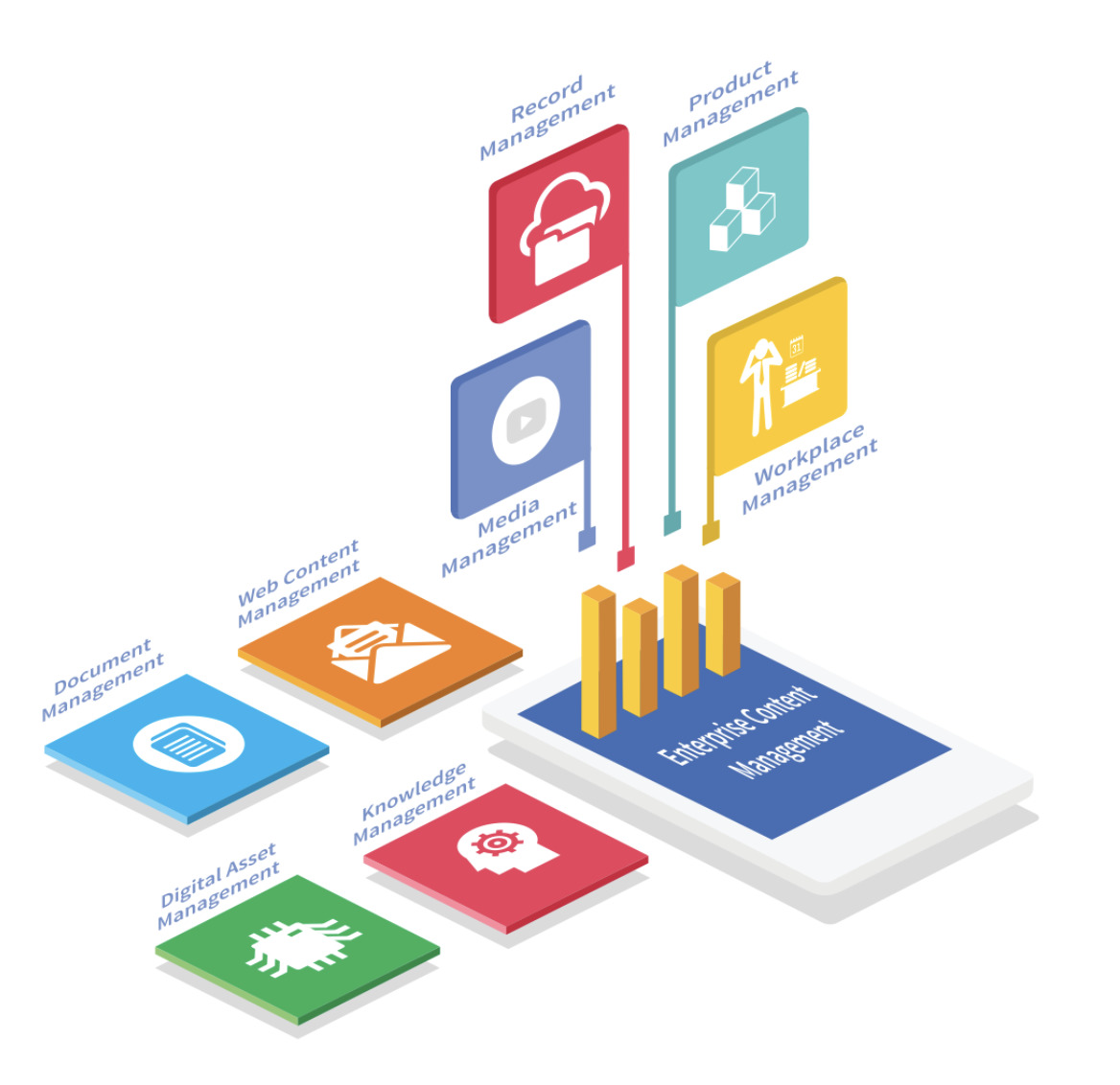 A CSP provides a variety of support options for external repositories. Traditional ECM systems only support a single repository.
A CSP can effectively manage all the main file formats businesses use, such as audio, video, 3D, and text documents (word, excel, pptx).
With the content services platforms, Artificial intelligence is being used to automate certain tasks, such as recommending taxonomy improvements and assigning metadata. It works at a speed and scale that no human can match.
A Content Service Platform connects all of the sources involved in creating, managing, and distributing files. Originally, enterprise content services solutions were designed exclusively to store all your media files.
CSP platforms use the same API to access files from various repositories. For instance, Picvario's entire system function can be accessed through API. The system supports authorization via various methods, such as Active Directory, Google G Suite, and Federation Services.
Unlike traditional ECM platforms, a Content Service Platform features a variety of user interfaces and functions designed to appeal to different business audiences. Its flexible architecture allows for customization.
A Content Service Platform can be used to meet the needs of different users. It can be customized to allow users to store, manage, interact with, and consume media the way they prefer.
A Content Service Platform can be used to manage various types of cloud storage, such as public, private, and hybrid clouds. Picvario can be deployed on public cloud infrastructure or on-premise.
A Content Services Platform can help ensure that your content complies with various regulations and organizational mandates.
Data leak prevention tools are available with a Content Service Platform. These tools can help you manage and secure your enterprise content. Using a Content Service Platform, you can also give controlled access to various folders and files.
A Content Service Platform provides a flexible framework for managing and securing content. It can also automate the classification of content to ensure its secure storage.
A Content Service Platform can also provide various capabilities, which can be used to manage various aspects of content, such as document preview, editing, and versioning.
When to Use Content Services Platform
Despite the shortcomings of legacy ECM systems, you don't need to replace all of your systems to modernize your processes. A Content-as-a-service platform (CSP) allows you to integrate legacy systems and map metadata. This eliminates the need to replace your procedures and lets you focus on your core business.
Despite the advantages of a Content Services Platform, many organizations still use manual processes to process their content. This approach can lead to inefficient and ineffective operations. The Platform can help organizations transform their business by delivering content to the end user at the right time.
A Content Services Platform helps organizations move toward a digital transformation by simplifying their processes and increasing their efficiency with digital content services. But how do you identify the key features that will allow your business to achieve its digital transformation goals? Here are the core features:
Scalable
Due to the increasing amount of information being collected and stored, a managed content services platform is required to handle the complexity of this situation. This includes managing all of the pieces of content stored in various systems and repositories.
Even small organizations have multiple data stores and content servers. Having the right tools and resources to manage these will allow you to keep track of your data and ensure that your Content Services Platform is working correctly.
Flexible
Today's business environment requires more than just office documents. It also needs to be equipped with the necessary tools and resources to handle the growing number of file formats, such as audio, videos, and photos, and tools that support metadata that can handle all media formats.
Due to the increasing number of file types integrated into mainstream business processes, managing these files must be handled properly. This is done through the integration of these files into the CSP.
Low-Code
Today, many software vendors provide a variety of software applications designed to meet their users' needs. However, as a content services company, the days of having the same interface for all of them are over. Users can create customized applications in weeks or even months with a Content Services Platform.
The ability to create a personalized interface is a key component of a modern Content Services Platform. A modern Content Services Platform allows users to create personalized interfaces that are easy to use and provide them with the necessary information in a way that works for them.
Connected
One of the most critical factors that businesses need to consider when it comes to enhancing their digital capabilities is the ability to connect to multiple data systems and applications. This can be done through the use of a variety of platforms, including on-premise and cloud-based file shares.
Thanks to API integrations, businesses can connect and sync data across various applications and improve their productivity and drive revenue. When connecting your information systems, having a centralized view of your assets is golden. Without this, you can't deliver effective content-driven applications and improve customer service.
Cloud Native
The era of the cloud is here. For many years, organizations have been reluctant to adopt the cloud due to the lack of confidence in its ability to deliver the necessary capabilities and power. However, with the increasing number of applications and services delivered through the cloud, it is now more important than ever that they can take advantage of the full potential of the technology.
A cloud-based Content Management system can manage various applications, such as databases, web-based services, and storage. It can be easily configured and managed flexibly and cost-effectively. Unlike legacy systems, this approach does not require large-scale conversions.
Trainable AI
AI is becoming more prevalent in our lives, and it's becoming more capable of performing various tasks and functions. Its capabilities include advanced recognition and prediction, which are significantly more accurate and volume-efficient than humans. Also, with the help of data and content, AI can improve its value exponentially.
The ideal content services platform will be able to take advantage of the latest machine learning and artificial intelligence capabilities to improve the efficiency of its operations. This will allow employees to focus on more productive tasks and reduce their time-consuming manual processes.
CSP vendors
Most of the content services industry vendors have already started introducing their products into a service-oriented architecture. This allows them to create a complete package of tools and services that can be used to improve the efficiency of their operations.
Content service provider definition: A content service provider is a company that provides various product catalogues, including product descriptions, images, and videos. It can also enhance and create these catalogues.
Some leading content services platform providers include AODocs, Box, DocuWare, and Picvario is also a content services provider. Signup for a free demo with Picvario and enjoy the full benefits of a modern CSP platform.